Stray Kids creates a Thunderous stage in Melbourne for Maniac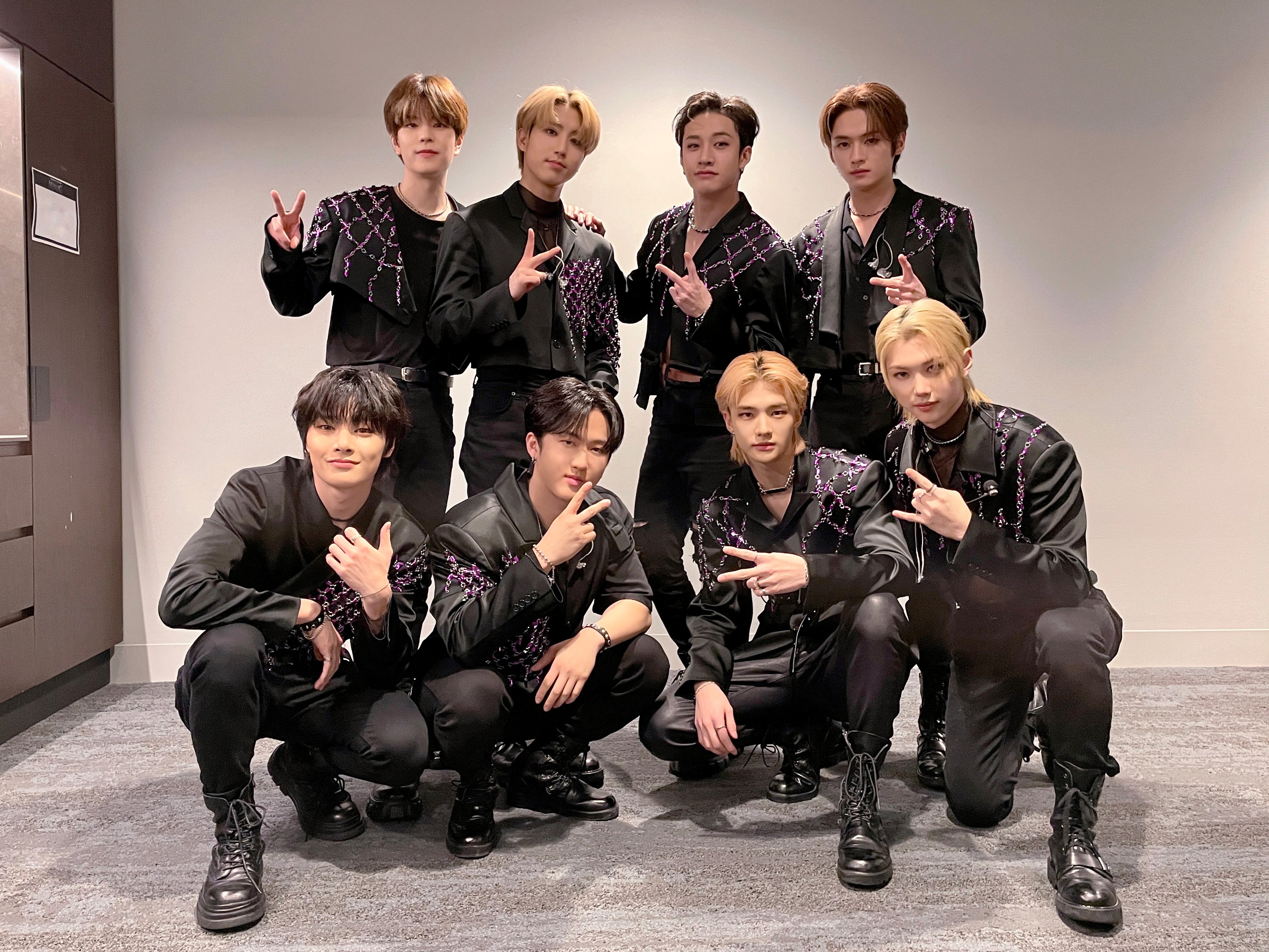 Photo by @stray_kids (Twitter)
It's been 4 long years since the last time Stray Kids have graced us with their presence on stage in a more intimate venue in Melbourne back in 2019. Now they're back with new bangers and are ready to rock the stage once more.
One of the major differences between the event from 4 years ago was the fact that the venue was definitely bigger and you can feel it. The energy the group brought on stage was definitely felt and the atmosphere was energetic as the 8-group members continued to perform and wow the crowd with every song.
The night started out with an bang as they entered the stage starting off strong with 'Maniac' as per the title of this current world tour. After a couple of songs, it was time to officially start with introductions. The Australian members definitely heard the biggest screams from their fellow mates with leader, Bang Chan teaching the rest of the members 'crikey' and more Aussie slang that the other members eventually gave up trying to follow.
What made this particular group fun to watch was the fact that they explained the songs they performed, told us exactly what title it was and which album it was from, how it was made, why was it made and it definitely was a great way to welcome new Stays (fans of Stray Kids) into the fandom.
'All In' and 'District 9' were followed by a video that showed a trailer to showcase their next few songs while the members went backstage and got out of their outfits into a more casual set of outfits that allows them to roam around freely and interact with their fans more. They came back to perform more songs including 'Back Door' and 'Charmer' as Stays got drawn more into their charms.
Photo by Michelle Pitris / Supplied
The group then came back on stage, after another short video break, with a band performing live on stage and the members wearing slightly more traditional looking outfits that seemed like hanbok as they performed their hit song 'Thunderous' eliciting loud screams from the audience. It did not end there, they continued performing 'Domino' and 'God's Menu' which are both crowd favorites, still in the same outfit that made them look ethereal, performing live with the band. 
As they moved towards performances catered for interactions from the extended stage, they reminded the audience and fans to have fun and dance along to the songs they perform. Stray Kids wanted to see people have fun while they were performing, and so that was what happened.
This was where it got slightly confusing. Han was supposed to perform with the rest of the members in 'Muddy Water' that came up after 'Waiting for Us' (performed by Lee Know, Bang Chan, Seungmin, and I.N), but he wasn't there. Fans were speculating whether or not he was injured but he managed to join in for the last stretch of the performances during the encore stage.
Stays had the privilege of being able to hear Felix, I.N, and Seungmin singing cover snippets with Felix singing with autotune, I.N inviting the entire stadium to singalong with him to 'One Call Away' and the group's prankster, Seungmin to sing 'Stay'. As a reminder, the song 'Stay' has the line 'I'd be f****ed up if you can't be right here' and as what Kpop idols would do, Seungmin changed the lyrics to 'messed up'. It didn't end there. Chan then prompted the audience to sing along, in which they did, with the uncensored version. This brought laughter to the audience and the group members.
Before the night ended while waiting for the encore stage, the members were backstage and a challenge was provided for Stays. There were moments when they had to copy a member's ending pose as shown on screen, and there were times when they had to do a dance cover and be the ending fairy. What fans seemed to not know was that Stray Kids themselves were narrating from backstage, seeing what their fans were dancing and posing to.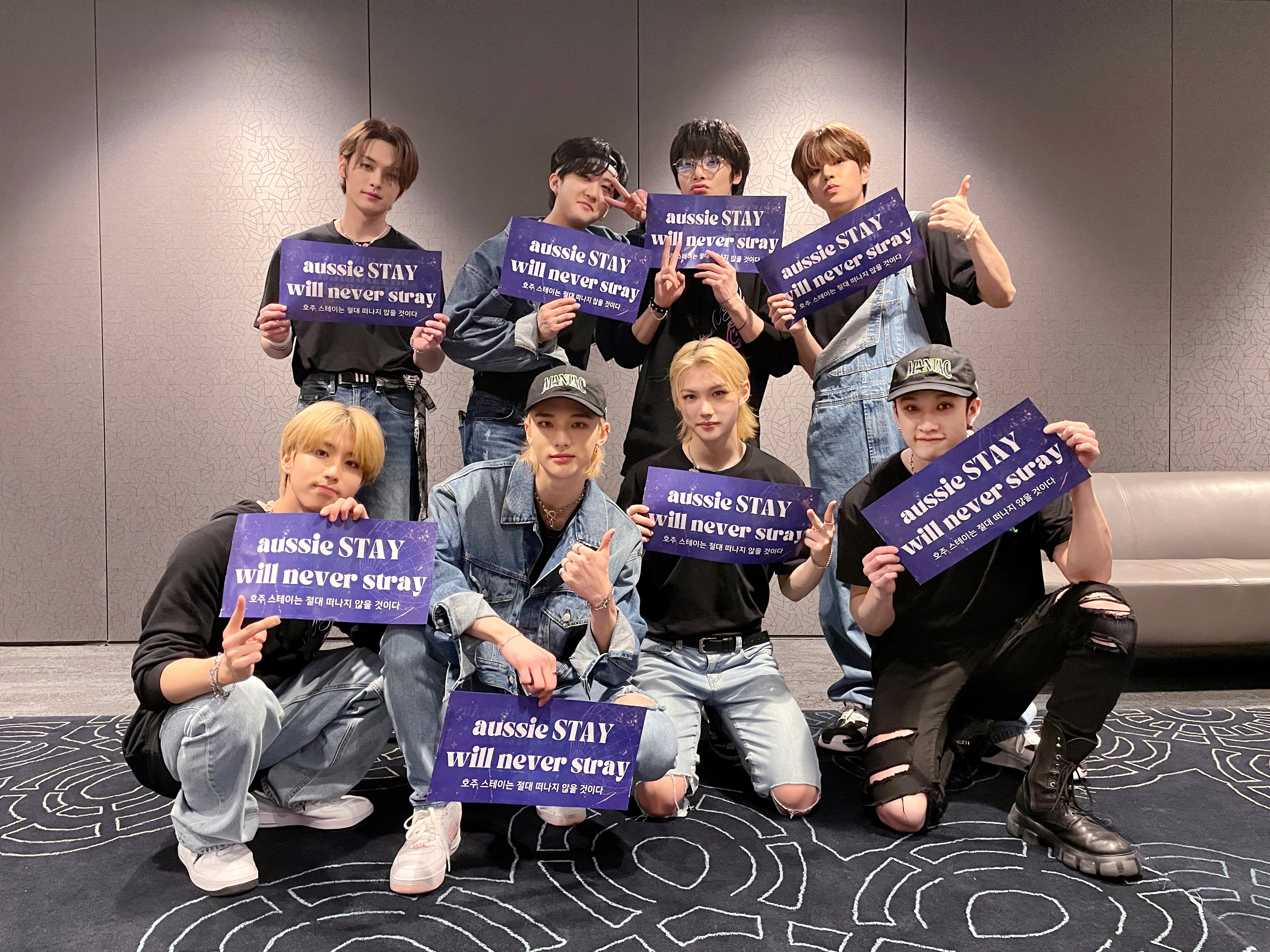 Photo by @stray_kids (Twitter)
The audience were delighted to see Han back on stage as they started the encore stage, apologizing for not being able to perform and showcase the best version of himself on stage and that he had to go backstage, not being able to see Stays. Each and every single member then continued to say how much they enjoyed their time here in Melbourne in English (fluently if I must say so myself).
Chan mentioned how he enjoyed his trip to Phillip Island last year with his family and how the stars in the sky that he saw back there reminded him of Stays. Hyunjin talked about how being in Melbourne felt like he was back in his hometown and mentioned that he liked the Aussie accent while Changbin thoroughly had a blast doing the show. Felix mentioned how he's been to Melbourne a couple of times while he was younger but he's always nervous going back to Australia to perform. Seungmin fluently spoke in English without a prompter and recommended Stays to get a burger for their post-concert meal while I.N mentioned that the weather was great (it was 39-degrees but maybe he enjoyed the heat). Lee Know also spoke about how fun it was to be back in Melbourne after 4 years.
The night then comes to an end with only memories of the concerts to remain. Stray Kids will be performing one more time in Melbourne on Saturday, 18 February with tickets still available to be purchased online during the publishing of this article. If you guys want to hear them say AUSSIE AUSSIE AUSSIE and respond to them with the entire stadium, then going to the concert is definitely worth a shot.
A huge thank you to JYP Entertainment and LIVE NATION for making the show possible and for the tickets provided!